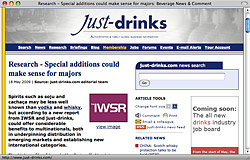 I just spotted an interesting story on just-drinks.com. Most interestingly is what they're saying about our beloved beverage:
Tequila posted the fifth-largest volume increase, and Tequila's rising prominence on the world stage, the report posits, is a further reason why speciality spirits should be taken seriously by international players.

"Tequila's transition from being principally a national category into one of the hottest international categories shows what is possible," the report says. And that success should give multinationals good reason to take a look at cachaça. "Volume sales of cachaça may not be high enough to register on the strategic radars of most multinationals in Europe, but the current situation is similar to that of Tequila in the mid- to late '80s."

In 1985, volumes of Tequila in Europe stood at just under 180,000 cases, but by 1989 had risen to 600,000 cases, and now stand at around 2m cases. Today, every multinational has a Tequila brand in its portfolio.
You may be interested in reading the full story, because it talks about many other beverages and you can get a good sense for where tequila is with respect to other drinks.