I've become addicted to Instagram. In the past few weeks I have been busy going through the images on my phone and sharing them through this really fun photo sharing community.
Many of the images have been tequila-related, of course. I've been shooting pictures of Mexico with my both my iPhone and my DSLR for several years, and have collected quite an archive.
Here are 10 of my favorite tequila-related images thus far (in no particular order.)
Mariachis
The charming pueblito of Tlaquepaque has a central building called "The Parian". Besides being billed by some as the "Largest Bar in the World", it's a regular source of mariachi music and authentic Mexican music. Jalisco is just loaded with music, culture, food, and fun friendly people.
1146 Stairs
The distillery at NOM 1146 is called "Le Tequileña", and it's located in the town of Tequila itself. This distillery creates well-known brands such as Don Fulano, Tequila Uno, Pura Sangre, Artenom Seleccion (Anejo), and Asombroso. They have a giant barrel aging room that is underground – and this is the view looking up the stairs that lead to the barrel room.
Agave Leaves
This is a young blue agave plant growing along a wall outside of the famous Tequila Fortaleza caves at NOM 1493. This distillery is small and extremely old and visiting it like stepping inside of a time machine. The tequila made here (Fortaleza) is made using old-world methods – which is a big reason why it's so damn good.
Jimador
In Tequila Valley, in the hot baking sun, we got to spend time with a real jimador in the agave fields next to the Tres Mujeres distillery (NOM 1466). He was able to harvest this mature agave in about 4 minutes. Afterward, it was our turn – using his coa, we realized just how difficult his job really is.
Cut Pinas
Mature blue agave plants stacked and ready to be cooked inside the La Alteña disillery in Los Altos, Jalisco. This distillery is the home of the amazing El Tesoro de Don Felipe and Tapatio tequilas.
Jesus Maria
While touring the little town of Jesus Maria in the Los Altos region of Jalisco, I walked into a construction zone, of what would eventually to become a convention center. As I looked around, this neighborhood boy was riding his bicycle on the smooth pavement inside.
Herradura Worker
The Herradura tequila distillery is a large, beautiful, impressive hacienda. Any visit to the Tequila Region of Mexico should include a tour of this historic spot. In this photo, a worker keeps an eye on one of the barrel rooms as we toured it.
Tequila Corrido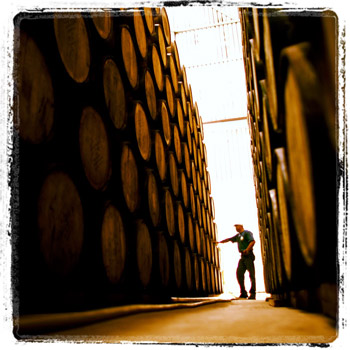 During a tour of PRASA (NOM 1526) in the Los Altos region of Jalisco, we wandered into the barrel room as a worker was busy pumping tequila out of some of the barrels so it could be bottled. This distillery is where Tequila Corrido, Sol de Mexico, and El Grado is made.
Miss Tequila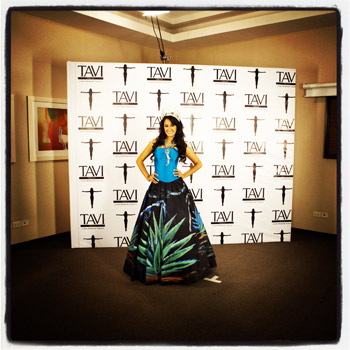 Miss Tequila (yes there really is such a person) made an appearance at the World International Tequila Conference, held in Guadalajara in 2009. Behind her is a background for Tavi Tequila, when the brand was announced for the first time during a press event.
Guadalajara Cantina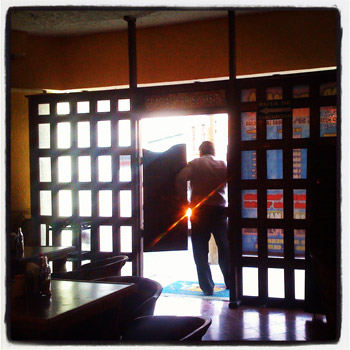 As much fun as touring distilleries is, it's the end result that everyone enjoys most. Drinking it, preferably in an old Mexican cantina. This photo was taken at sundown, inside of a very old cantina in downtown Guadalajara, complete with old-style swinging doors. As one patron left the bar, the sun came shining through.

— Grover