Scarlet is a freelance journalist/writer and business consultant currently living in Tlaquepaque, Jalisco, Mexico, with her husband and TasteTequila.com partner, Grover. She discovered the pleasure of drinking tequila while working as a journalist in Mexico City and has been enjoying and evangelizing the merits of agave ever since.
Scarlet has received formal "catador" training in the production processes and evaluation of tequila from Ana Maria Romero Mena and the Academia Mexicana del Tequila, A.C..
---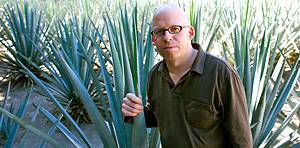 Grover, a former photojournalist turned Internet entrepreneur, discovered tequila relatively late in life but has been making up for it ever since. He is co-founder of PhotoShelter and has worked in management roles for several large-scale Internet companies including Quokka Sports (NBCOlympics.com, FinalFour.net), and the Chicago Tribune.
Grover passed the official test administered by the Consejo Regulador del Tequila, A.C. and therefore earned an "Award T" certificate.
Scarlet and Grover lived in Mexico in 2010-2011 so they could study tequila, the tequila industry, and how tequila is made and evaluated. They returned to the United States in 2012 and took what they learned to created the Tequila Matchmaker mobile app.
In 2017 they moved back to Mexico to further pursue their interests in the tequila world.