As some of you already know, we recently moved to the Guadalajara area so we could be closer to the tequila world and have access to special places like the bar "La Cata". It's an independent tequila tasting room located in the center of downtown Tequila, and is a must-visit place for any tequila tourist.
One of the cool things about La Cata is that they make things available to tequila geeks like you and me. Their first exclusive offering is the special edition "La Cata" single barrel extra añejo from Rey Sol. It's the first-ever single barrel from this brand, and was bottled at barrel proof (54.5% abv.) This stuff is a treat, and only 91 bottles were produced.
It was aged in a medium-toast French oak barrel for nine years.
Scarlet and I both rated it using the Tequila Matchmaker app. Keep in mind that when we are rating, we have a strict policy of not talking to each other until we're both finished so that we don't influence one another, so we were surprised when we both rated it a 91.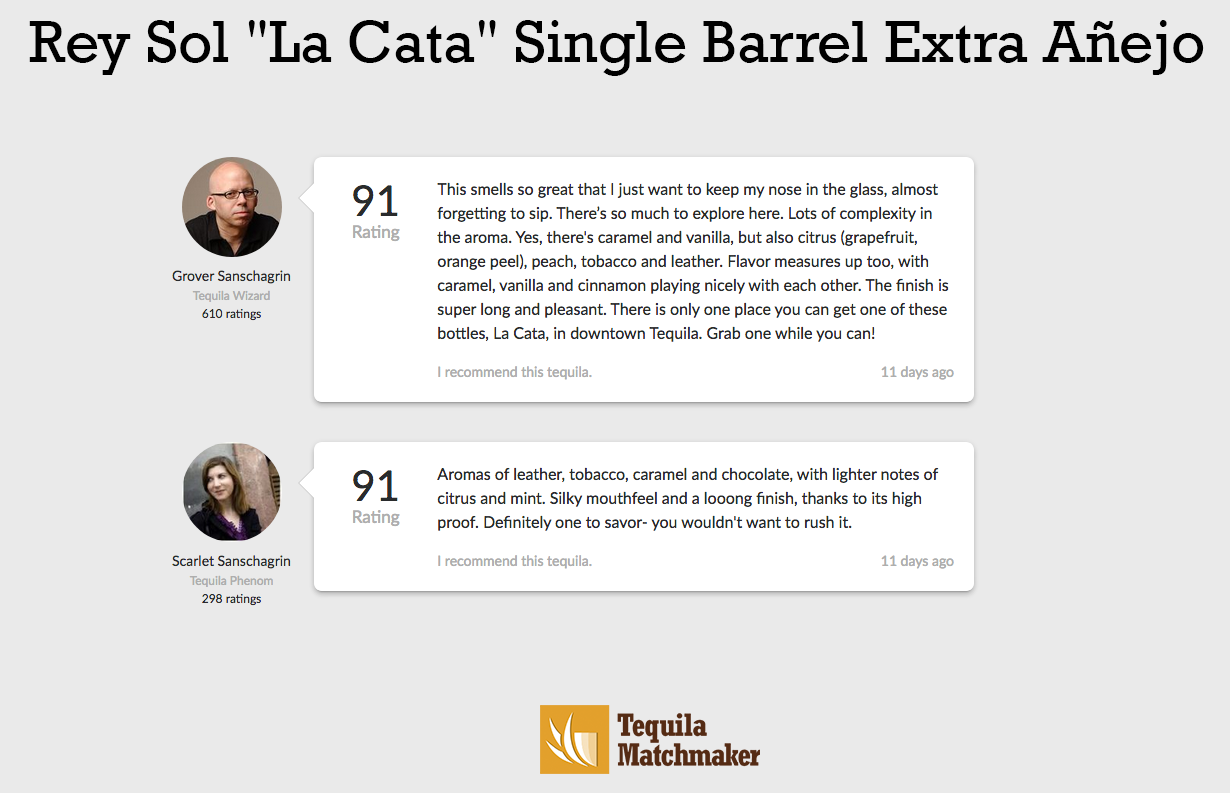 This is a great score from us, especially considering that we don't usually score extra añejos this high.
The aroma was so tantalizing that I just wanted to keep my nose in the glass, almost forgetting to sip because there's so much to explore. I found waves of complexity with caramel and vanilla, as well as citrus (grapefruit, orange peel), peach, tobacco and leather.
Scarlet found leather, tobacco, caramel and chocolate, with lighter notes of citrus and mint.


When it comes to flavor, it didn't let us down. The caramel, vanilla and cinnamon played nicely with each other, and the finish was long and pleasant with a silky mouthfeel.
This is a tequila you definitely want to savor. Take your time, and don't rush it.
If you're interested in tasting this, you should act quickly because fewer than 60 bottles are currently available. Your options are:
1) Visit La Cata, order up a glass, and sit at the bar while taking your time to savor it
or
2) Visit the La Cata website at lacatatequila.com and reserve a bottle of it online for $296. You can pick it up at the bar the next time you're in the town of Tequila. (No, this product cannot be shipped outside of Mexico!)
Did you try this yet? Let us know what you think by rating it in the Tequila Matchmaker, or leave a comment below.