Traditionally-made Tequilas Rise to the Top of the 2017 Spirits of Mexico Competition
There are very few tequila festivals left in the U.S., which is a shame because they offer tequila lovers a great opportunity to try some of the new and recent brands that have come into the marketplace. (A whopping 87 new tequila brands were added to our database so far in 2017!)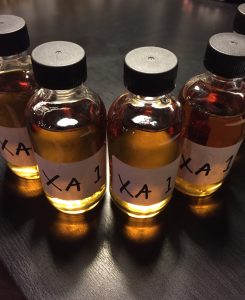 That's why we were excited to work with the Spirits of Mexico (SOM) contest in Texas last month by providing our Tequila Matchmaker app technology run the judging portion of their tequila competition. Ten judges had one month to sip and savor 52 products, rating them on their aroma, flavor, finish, value and more.
Before you jump straight to the contest results let's talk about how these tequilas were evaluated and why it matters. Most spirit contests get the judges in a room, put 50+ glasses in front of them and ask them to perform the herculean task of tasting and rating all of these products (some high proof, and in different spirit categories) during a single day, over one or two sittings. Talk about palate fatigue! Only very experienced and gifted tasters can taste and smell accurately after multiple samplings of 80+ proof spirits.
The SOM judging was different in that the judges had 30 days to blind rate the products, in the comfort of their own homes and at their own pace. Because of this they were able to taste smaller groups of tequilas against one another, revisiting them later, as needed. Special blind rating technology built into our Tequila Matchmaker app made this possible.
From a practical standpoint, the SOM competition was able to save money while doubling the number of judges who could participate since they didn't have to incur the expenses of flying them all out for a one-day event.
Instead, judges were shipped a box containing one 2-ounce bottle of each entry, and granted access to a special blind rating area of the Tequila Matchmaker app where they could record their scores and leave comments.
This method not only saved the judges from palate fatigue, it also produced what we believe or more reliable results, because the judges had the time to evaluate the samples properly. (If the judges had to taste all 52 products at once, for instance, judges might be tempted to rate a tequila with strong vanilla and caramel additives higher just because it's the only one they could taste after 20 samples.) This process also helps consumers like you make more informed choices when it comes to buying new sippers.
And we believe that the contest results reflect the thoughtful way the judging was conducted because some of the brands we truly respect came in on top.
The question of "transparency" is often discussed when it comes to spirits competitions. Are the winners secretly in a "pay-to-play" arrangement, or is it truly fair? Since scoring details remain a secret for most competitions, there's an unsettling lack of transparency. To address this, SOM contest entrants (the tequila brands) receive detailed scoring reports, complete with judges comments. This provides full transparency, and gives the brands useful information that they can use to make their products better.
THE JUDGES
So, who were the judges? The 10-person panel was made up of 60% men and 40% women, and split evenly between bartenders and their best customers (tequila aficionados.) Nearly two-thirds (70%) of the panel were experienced members of the Tequila Matchmaker Tasting Panel, selected for the consistency of their ratings and the fact that they are all agave agnostic, not playing favorites with any one expression (such as only liking extra añejos.)
Currently, the Tequila Matchmaker Tasting Panel has 52 members selected from 30,000 tequila-loving users of the app.
These panel members have participated in a number of our blind ratings before and are already familiar with the app technology and rating process.
(Here's how to be selected as a member of the Tequila Matchmaker Tasting Panel.)
In the interest of transparency, we also disclose the scoring patterns for each of the judges. This way brands (and SOM administrators) can gain more insight into a particular judges reactions to their product. We can use this chart to help us determine the quality and consistency of the judges, and if we should invite them to participate in future blind tastings.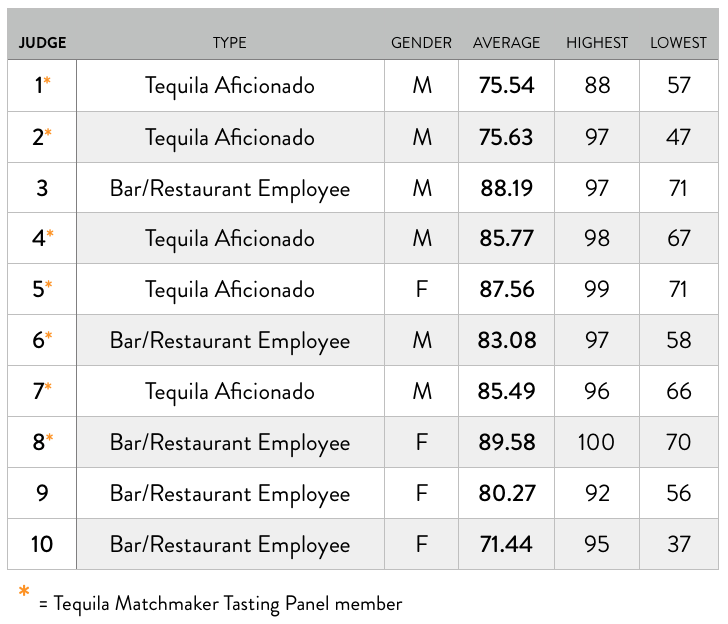 Finally- the RESULTS!
Tequila G4 Blanco scored the most points overall, easily winning first place in the blanco category. This does not surprise us, since the traditional methods used in its production tend to stand out, especially when compared to tequilas that use a faster, more industrial process. This includes the use of a brick over, mechanized tahona and long fermentation process.
The judges praised its agave-forward profile, and its herbal, citrus, and mineral-rich aromas and flavors.
It isn't common for a blanco tequila to score the highest points of all entries in a blind spirits competition, but that's exactly what G4 did.
(Watch our video shot at El Pandillo, the distillery where G4 is made. Not only is it environmentally friendly, it also creates products that tequila aficionados are crazy about.)
For a long time this has been a Mexico-only product, but now you can buy it online in the USA, for $29.99. (Bargain!)
---
---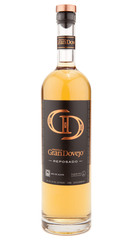 Gran Dovejo Reposado, another traditionally-made tequila, placed first in the reposado category, wooing judges with aromas and flavors of butterscotch, vanilla, and spice, along with its lingering finish.
This is not a surprise to us, as we've been big fans of this traditional brand for a long time. We've praised Gran Dovejo Blanco, and its high-proof version on our website before.
Made at the Vivanco Family distillery (NOM 1414) in Los Altos (Arandas), they use traditional brick ovens, copper pot stills, and American oak barrels previously used to age whiskey. Just like G4, Gran Dovejo makes their tequila in small batches, paying great attention to every detail.
You can buy it online in the USA for $49.99 at Old Town Tequila.
---
---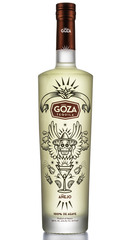 Goza Tequila Añejo received the highest average scores in the añejo category. Judges reacted positively to the vegetal, bell pepper, spice, and earthy aromas and flavors they found. They remarked that it was light on the palate and therefore easy to drink, and had a nice finish.
This one was a surprise to us, because we've never personally tried it, but we sure are eager to now!
This brand was first added to our database back in April, 2015. It is made at Compañia Tequilera Hacienda la Capilla (NOM 1479), in Southern Los Altos, Jalisco.
It's still difficult to find in stores, but that may change now that they've started to win awards. (If you've tried it already, please share your feedback in the comments area below.)
You can buy Goza Añejo Tequila online for $38.99 at Mash & Grape.
---
---
Here's the full list of award winners.
So, did any of your new favorites win? We hope that these contest results will at least help you round out your holiday tequila wishlist.
Happy sipping!