More than a hundred new tequila brands are launched each year. For tequila drinkers this is both a great gift and a dilemma: which new tequilas are worthy of your time and money? Good question. That's why we created a "Newcomers" blind tasting test to help.
We sent six blanco tequilas to 28 members of the Tequila Matchmaker Tasting Panel to rate blind. Four of them are new to the market, and two of them are tequilas that have been around for a long time. This way we can compare the newest products with tequilas that people are already familiar with.
We intentionally selected products that were worthy of consideration and discussion, but the panelists had no idea what the theme of the lineup was.
---
Here's the lineup:
---
And here are the results:
---
The tequila that earned the most points from our seasoned Tasting Panel members was G4 Blanco. Made by Felipe Camarena in his innovative distillery, "El Pandillo", this product has done well in every blind tasting we've ever placed it in.


So, what's his secret? We think we may have come up with at least one good reason.
Products made at El Pandillo are not created in a hurry.
Agaves are cooked slow and low (22 hours at 94 degrees) in stone/brick ovens, then left to cool for about 24-36 hours, until they are safe enough to handle. They are then crushed in a mechanical tahona. It takes 2-3 days to crush one oven load (approximately 23 tons of agave), which will produce about 3,000 liters of tequila.
Tack on 5 days to ferment, and another to double-distill in copper pots, and it takes a full week to create a single batch of G4 blanco.
Remember, by using high speed industrial diffuser machines, yeast accelerators, and column stills, non-traditional production processes can crank out a tequila as fast as 24 hours.
G4 Blanco outscored all other products in dramatic fashion. Panel members found it simultaneously complex, rich with agave, black pepper, floral, vegetal and mineral aromas and flavors. They also found it easy to drink with a very clean finish, and 28 of the 29 panelists (96.4%) said they would recommend it to a friend.
You can buy G4 Blanco Tequila online from Old Town Tequila.
Maybe there really is something to not rushing the process, because the tequila that scored the second most points spent a full lunar cycle (28 days) resting in a barrel before it was bottled. Suave Lunar Rested Silver was created by Jaime Villalobos Sauza at Hacienda de Oro (NOM 1522) in Amatitán, Jalisco.
Organic single-estate agaves from the Tequila Valley are cooked in an autoclave for about 12 hours before they are put through a roller mill. After fermentation, which takes up to 3 days, the juice is then double distilled in stainless steel stills with copper coils.
Some of our panelists commented that it had a slight amber color, which isn't normal for a blanco, but that's because it came in contact with a barrel. Specifically, an American oak barrel, previously used for Kentucky Bourbon, with a medium char. This is the source of the natural vanilla and smoke that panelists found, which is uncommon for a blanco. Also found: cooked agave, black pepper, citrus, cinnamon and mint in both the aroma and flavor.
And yes, it is legal to rest a blanco in an oak barrel for up to 60 days. Any longer and it becomes a "reposado." Suave Lunar Rested Silver goes into the barrel on the day of a full moon, and in then removed 28 days later, during the next full moon.
You can get Suave Lunar Rested Silver online at Old Town Tequila for $55.
The third highest-scoring tequila is an old favorite for many blanco tequila lovers: Siete Leguas Blanco.
This is consistently solid tequila that has earned a permanent place in our home bar. We especially like to put it side-by-side with other tequilas as a way of giving us a familiar reference point.
That's why we included it here. Any tequila that scores higher than this one is worthy of attention for sure.
True to form, the panel members were able to find what Siete Leguas Blanco is known for: lots and lots of black pepper and herbal notes with plenty of cooked agave.
Once the brands were revealed to panel members, several of them were surprised that they didn't recognize Siete Leguas Blanco in the lineup because it is a product they sip regularly. That's the beauty of a blind tasting, you learn about what you truly like, without any influence from marketing, branding, personal relationships, or past experiences.
Siete Leguas Blanco sells for $40, online, at Old Town Tequila.
Forth-place was another familiar product: Don Julio Blanco. It cost $10 more than Siete Leguas, so the judges gave it lower marks on value.
Panelists mentioned that, aside from cooked agave, the most prominent aroma was alcohol, which cost it some points as a result.
Earth, black pepper, vegetal and medicinal aromas and flavors were also detected.
Don Julio is a popular brand, and has developed a loyal following, so it can command a higher price just on brand recognition alone. But, when tasted blind, it reveals that the product itself may indeed be overpriced.
Value factored heavily into the fifth-place finisher, Uno Por Favor Blanco, which retails for $50 online at Old Town Tequila. Interestingly enough, when looking only at scores for aroma, flavor, and finish, Uno Por Favor finished in third place, scoring higher than Siete Leguas and Don Julio.
NOTE: When we do these blind tasting kits, we buy all of the tequila from a retail store, and in this case it was Old Town Tequila, which sells this product for $50. However, while doing the research for this story we were able to find it for $39.99 online at Hi-Time Wine Cellars. If the judges saw this price instead, it would have likely earned them that third place finish.
Here's a chart that shows the scores for just aroma, flavor, and finish:
This tequila has done well in one of our previous blind tastings, for the Spirits of Mexico 2017 competition, where it impressed the judges and finished in 2nd place.
It is made at Compañia Tequilera Hacienda la Capilla (NOM 1479) in the southern region of Los Altos, Jalisco.
Agaves are cooked in an autoclave and double distilled in small copper pot stills. It is then oxygenated, which helps to create a softer, more rounded mouth feel. Panel members found herbal, cinnamon, vegetal and mint aromas and flavors in addition to cooked agave, and remarked that it was a quality product, but had a difficult time justifying the $50 price tag.
There is also a long, detailed, and interesting review of Uno Por Favor Blanco from Long Island Lou Tequila. If you want to know more about the brand, this is a good place to start.
Panelists had a lot to say about the sixth-place tequila, which caused the biggest reaction and generated the most comments because of it's overwhelming sweetness. Adictivo Plata is, quite frankly, not designed for tequila aficionados, and that's what our Tasting Panel is.
When we were getting the kits assembled, I poured a sample of Adictivo Plata for my brother in law, Philip, who has a serious love for all things sweet. He is not a tequila aficionado, or even a fan of tequila at all, and I was interested in his reaction. No surprise, he loved it.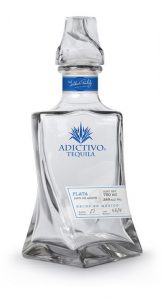 And that's the point of this particular product. It's tequila for people who don't actually like tequila. As aficionados, we can complain about products like this, or we can see if for what it is–a gateway tequila.
Other than a ton of sweetness, panelists found a lot of floral and fruity aromas and flavors.
You can buy Adictivo Tequila Plata online at Old Town Tequila for $37.
So, what did we learn from all of this? First, the fact that some new tequilas rated higher than old standards says it's definitely worth exploring new brands. As to where to put your money, the tequila that won the biggest bang for the buck (in our parlance meaning a combo of aroma, flavor and value) was G4.
Lastly, when it comes to building out your tequila wish list, you might want to consider taking a longer look at process–slow usually means it's a go.
What do you think of these tequilas? Let us know by leaving a comment below, or rating them in the Tequila Matchmaker app.