Put the words "tequila" and "smoky" together and most people think of mezcal. This is because most mezcal makers still use the artisanal process of cooking agaves in earthen pits, creating smoky aromas and flavors, as opposed to steam-powered autoclaves and brick ovens that many modern tequila makers use.
But mezcal doesn't have a corner on the smoky market. Prior to the 1870s, tequila (which is a variety of mezcal) had the same underground cooking legacy, and a few tequila producers are now returning to that process to bring new products to the market.
Today Patrón launched its Gran Patrón Smoky tequila, and before you jump to conclusions about how a huge brand might have made this artisanal product, let us say upfront that their effort is the real deal. Patrón invited us to their distillery so we could record the painstaking process. (See the video, or geek out reading all the steps below.)
Now, Patrón isn't the only brand returning to these original tequila-making methods. Notably, so are Siembra Valles Ancestral and Lunazul El Humoso Blanco. All three of these products are made with blue agaves cooked in an earthen pit, but there are some differences. Siembra Valles Ancestral, for example, cooks for 5 days, uses heavy wooden mallets to crush the agaves by hand (instead of a tahona), and a Filipino-style pot still. Lunazul El Humoso, cooks underground for 48 hours, but then uses their normal roller mill, and stainless steel pot stills.
While mezcal drinkers have grown accustomed to the signature aromas and flavors that old-school methods produce, these products offer something new to modern tequila drinkers.
"The use of wood-fired, stone pits, honors the most ancient methods of roasting agave," says Lee Applbaum, Global Chief Marketing Officer for Patrón Tequila.
Applebaum noted that Patrón Smoky represents years of trial-and-error, making sure the smokiness didn't overwhelm the agave. He believes that with the final product Patrón has managed to balance the smoky and herbaceous agave notes, creating something unique for tequila lovers.
"This is most certainly an artisanal tequila, made with no additives to influence the flavor, and we don't want any confusion or debate about that," says Applebaum.
---
Our Taste Test
We know what you're wondering: well, after all this effort, how is it?! We sat down one evening to compare Patrón Smoky against Siembra Valles Ancestral and Lunazul El Humoso. All three have plenty of cooked agave in the aroma and flavor. Both the Patrón and Siembra Valles products are high-proof (50.5% and 50.2%, respectively), while Lunazul's is a normal 40% abv. The high-proof tequilas had much bolder smoky aromas and flavors; Humoso's was very faint in comparison.

Here are our ratings and comments for these three products, as they currently appear in the Tequila Matchmaker app:
Gran Patrón Smoky
Scarlet: 90
"Sweet, slow-cooked agave, smoke and herbal and earth notes with a rounded, flavorful mouthfeel. The sweet agave flavor is followed – and balanced- by a smoky finish that lingers pleasantly. Highly drinkable for 50.5% abv.
Well-crafted product that feels like an elegant, long-ago tequila, and not a mezcal. The mature blue agave is the star of this smoky show."
—
Grover: 90
"Gentle smoke, slight cheese & earthy aromas but it's the agave that shines above all. Loving the aroma. Smoke gentle on the nose, but much more prominent in the flavor, yet still allows the agave to come through loud and strong. This is a perfect balance between agave and smoke. Oily mouthfeel and creamy finish. The finish has nice waves of complexity as it slowly fades. Well done!
(It would have rated even higher for value if the price was a bit lower.)"
---

Siembra Valles Ancestral (Lot 03)
Scarlet: 86
"Smoke, cooked agave and slight celery, cilantro nose. Slightly sweet and rustic agave mouth with nice, long smoky finish. It's obvious that great care was taken with the artisanal production, but I wish the mouth flavor was more developed.
At 50.2% abv it's a little hot for my personal taste, but something mezcal drinkers will probably enjoy. (Drinking it out of a jicara rather than a Reidel definitely makes it smooth out and open up.)"
—
Grover: 88
"Yes, it has some smoke but also a lot of agave, vegetal and celery aromas. I really love how this smells. It definitely has a smoky mezcal vibe in both the aroma and flavor which lingers for a while on the palate. Nice, natural, slow-cooked agave sweetness in the flavor and finish comes from a full 5-days in the earthen pit.
Agaves are even crushed by hand before loading into old wood fermentation vats. Finish is very light and gentle, especially for a high-proof tequila. It's a tiny bit too rustic for me, but it is what I would expect of an authentic expression of an ancient time. (A Filipino pot still made of pine wood is even used for part of the distillation.)
I applaud the effort and passion that went into this taste of tequila history."
---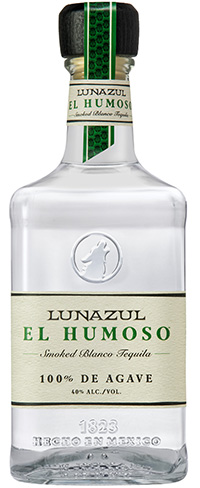 Lunazul El Humoso Blanco
Scarlet: 80
"The 'humo' in the smoky tequila is very faint, perhaps tampered down by the lower proof, compared to other smoky products. Sweet agave, jalapeño, and slightly fruity nose. Flavor is simple and sweet with a subtle smoky finish. Very soft expression. I would like to see more complex flavors and a punch of smoke."
—
Grover: 83
"Jalapeño, black pepper, cinnamon and cooked agave aromas, but not much smoke. Smells nice. Smoke barely detectable in the flavor. Sweet flavor, and lots of agave. I was expecting more smoke! If this was labeled as a normal blanco, I would have scored it higher. But, expecting much more smoke (based on its name and process) it lost some points because it left me wanting more. And at such a low price point, it gets a 9 out of 10 in value."
---
(NOTE: Although our scores are often the same, or very close to each other, we have a policy of not speaking to each other while we are going through the rating process. We don't want to influence each other in any way, and our ratings and impressions are always independent of each other.)
Gran Patrón Smoky is priced at $199. Just 1,200 cases were made for this initial U.S. launch, with expansion planned for 2019.
Siembra Valles Ancestral costs $120, and can be purchased online Old Town Tequila.
Lunazul El Humoso has a retail price of $29.
So, what do you think of this trend of smoky tequilas? Are you eager to try them? Let us know!
---
Here's a (very geeky) rundown of Patrón's Smoky process:
Patrón installed 10 earthen pits behind their distillery in Atotonilco el Alto, Jalisco. Each pit holds 2 tons of agave, which is very little compared to the 14 tons that will fit inside one of their brick ovens. From January until June of this year, workers loaded and unloaded these pits by hand, then transported the cooked agave to a tahona area dedicated to this project.
Loading the Pits
– A ring of volcanic rock (Basaltica) is placed around the bottom edge of the pit
– Mesquite charcoal is then added to the bottom of the pit. Mesquite was selected because of the qualities it brings to the final product.
– Once the coals are in place, 96° alcohol is used to start the burn
– After the coals have had some time to heat up, additional layers of stones and more coals are added
– Large fans are pointed into the pit to speed up the burn
– Once the stones within the pit reach 500°C, still-moist agave fibers (fresh from the Patrón roller mill) are added. This provides a layer of protection for the agaves, and also contributes to the product's flavor profile
– Workers then add the agave to the pit. They are cut into equal-sized pieces.
– A heat resistant, double-layer tarp is placed over the top of the agaves
– And a final layer of earth is placed on top of the pit, sealing the steam inside
– Agaves cook in the pit for 7 days
Unloading the Pits
– Workers use shovels to remove the top layer of earth
– The tarp layers are peeled back, and steam will escape
– Agaves are now fully cooked, still warm to the touch
– Workers remove each agave from the pit by hand, placing it in a Skid Steer Loader, which then dumps them into a truck
– The truck drives to the other side of the distillery, where the tahona pits are waiting
Crushing/Extraction
– Agaves are put onto a conveyor belt, which takes them through the brick oven and to a shredder
– Shredded agaves are taken by a conveyor belt to the tahona pit, where workers spread the fibers around
– The tahona crushing takes 2 hours to process the 2-ton load from the pit
– The process is the same one used for the production of Roca Patrón
– Once complete, the crushed fibers, and whatever liquid remains in the pit, are moved into wood fermentation tanks
Fermentation
– Each fermentation tank holds 1 ton of agave, so 2 tanks are used for each pit load
– The process takes 3 days to complete, using the same yeast and process as the rest of Patrón's products
Distillation
– After 3 days, the fermented liquid and some of the fibers are pumped into a series of small copper pot stills
– The distillation for Smoky is the same as it is for other Patrón products. It is double distilled to 55% abv. (Water is added before bottling Smoky to its final 50.5% abv.)
---
Photo Gallery
Pictures of the Patrón and Siembra Valles production processes.
Thanks to David G. Suro, of Siembra Spirits, for contributing some images of the Siembra Valles production in action. Muchas gracias, Señor!